About Salty Whitsunday Cruises
Are you, your friends or family looking for a completely unique Whitsunday charter?
Do you want ultimate flexibility, go somewhere different,
away from the crowds and enjoy things at your leisure?
A luxury 10m day launch, designed for families, small groups and private charters.
Tailor your own adventure
Relax on a secluded beach, swim in the azure waters, and admire magnificent views. Choose what you eat, drink and even the music you listen too as you cruise through the stunning Whitsunday Islands.
Every aspect of the tour is planned to make the day perfect for you. Salty can carry 10 guests, but we think eight is the perfect number!
Salty Sunset – Go the extra mile for that special occasion or just simply to take in the stunning views surrounding you. Enjoy a magnificent Whitsundays sunset with a complimentary glass of bubbles as you immerse yourself in bliss.
Private charter option only.
Salty Escapade (half day) – You can do a lot in a short amount of time, and on Salty that's nothing short of the truth. Discover some of the amazing walking trails on South Molle, check out the cave paintings in Nara Inlet or jump in for a swim at Langford Island.
Let us bring you to the best location on the day, and find something in the Whitsundays you'd never heard of.
Private charter option only.
Full Salty Adventure – With a whole day to play, there's no stopping the Salty crew from showing you the absolute best of the Whitsundays. Enjoy a very private experience of Hill Inlet lookout and Whitehaven Beach or feel like a VIP
stepping off Salty onto the sands of Cape Gloucester or Montes Resort. You could even make a day of familiarising yourself with the Molle Islands – walk to Spion Kop lookout on South Molle Island, enjoy a pizza and cocktail at Palm Bay Resort on Long Island and snorkel at Lovers Cove on Daydream Island. The most flexible way to see what you want to see, in just a day.
Private charter option only.
We want you to be completely relaxed, not only whilst enjoying your time on board, but also when in the planning stage. So, let us put in the hard yards to organise the extras, so that even your brain can take a break!
To delight the taste buds
A cheese and nibbles platter
Salmon Sashimi platter
Cold Seafood extravaganza
Prices on request
We have two fridges and a large icy esky on board. You can pre-order from Coral Sea Cellars bottle shop and your drinks will be on the boat chilled for you, before you even arrive. Otherwise, the bottle shop is conveniently located in Coral Sea Marina next to Bohemian Raw Café.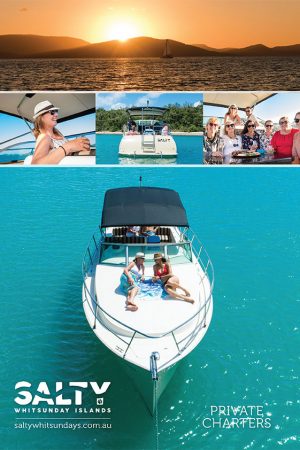 We want your Salty excursion to be memorable for all the right reasons. Therefore, in case of inclement weather or high winds and/or seas we reserve the right to offer you an alternate day subject to availability or to cancel with refund.